Doon Business School Won the Manfest-2014 Trophy
8-March-2014, Dehradun, Today the Second Day of the "Manfest 2014" winded up with lots of fun and cheer up faces. DBS students with their ability and talent won the Trophy of Manfest-2014.
The Second day of Manfest-2014 filled happiness and joy in the evnt. Around 15 colleges of Dehradun along with the colleges of Haridwar, Roorkee, Saharanpur and others cities participated in the event. In the second day of the fest students participated in events like Biz quiz, Debate, Special talent, Fun sports, Tug of war, solo and group singing, solo and group dance and in many more events. All the programmes ended at the scheduled timings.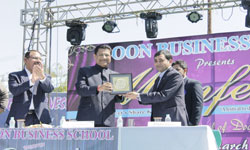 Prizes were distributed to the winners by the Campus Director,Doon Business School Dr.Ashok Kumar Dubey and Advisor Dr Gyanendra pandey .Smita was the winner of debate competition and the second prize won by Upmanyu from ICFAI ,Solo Dance competition won by Arvindu from Himgiri Zee University and second prize won by Vibhuti Thakkar from Doon Business School. In the event of Business Plan First prize won by Neha and pratikha, Event of investrix's first prize won by amit and second prize also given by the DBS student vidushi chatriji stood the winner.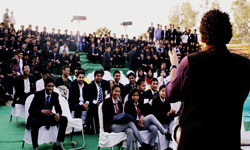 The overall winner trophy of "Manfest-2014" was given to the Doon Business School by the Chairman Mr. Mohit Aggarwal. The last event of Manfest-2014 was the grand finale of fashion show in which five colleges along with DBS college participated.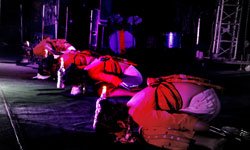 On the occasion Chairman of DBS college Mr. Mohit Aggarwal said that events like Manfest are organized to provide a stage to the students to show their talent. The Director DBS Campus Dr Ashok Kumar Dubey said that the main purpose of the event is to make the student believe in themselves so that can reach to their aim in their future.
During the event the Founder of DBS college Mr. S.K. Aggarwal, Chairman Mr. Mohit Aggarwal, Director Campus Dr. A.K Dubey, Director DBS global Dr. Suneet Saxena, HR Head Dr. Gyanendra Pandey, Prof. Lalit kumar, Navjyoti Singh Negi, Nitin kumar, Shivani Joshi, Pushpa Katariya and others were present.
Manfest'14: Let's share knowledge
Manfest Activities Winners
Brand Promotion
Himanshu (DBS)
Garima Kumari (DBS)
Amit Kumar Gupta (DBS)
Venkatesh Krishna Murte (DBS)
Rahul Kumar (DBS)
Ad Mad
Gaurav and group (OIMT)
Ran Neeti (Case Study)
Mandeep Singh (DBS)
Richa Mathur (DBS)
Neelansh (DBS)
Fashion Show
Mandeep Singh Saini n Group (MBA) (DBS)
Investrix
Amit Kumar Singh (DBS)
Shashank Mishra (DBS)
Devil's Advocate
Amit Kumar Singh (DBS)
Debate
Smita Deka (DBS)
Ship Wreck
Savi Bahuguna (ICM)
Business Plan
Pratiksha and Neha Gupta (QUANTUM SCHOOL OF BUSINESS)
Solo Dance
Arbindu Debana (HIMGIRI UNIVERSITY)
Dumb Charade
Ayush (DBS)
Shreya (DBS)
Singing
Prerna Rema (HIMGIRI UNIVERSITY)
Special Talent
Adil and group (DBS)
Biz Quiz
Akshay Sharma (Himgiri University)
Suneet (Himgiri University)
War of Bands
Keechad and bandish band (BEEHIVE and DBS)
List of the colleges participated in Manfest'14
Himgiri Zee University
IMS Unison University
Graphic Era University
OIMT Rishikesh
Quantum Roorkee
SDIMT
DBIT Saharanpur
Beehive
ICFAI
SGGRRIT
ICM
MKP-MIT
MAYA
TULAS