Latest Activities
Poster Competition during Lockdown
Students Unleashing their Artwork during lockdown period- Featured Posters, DBS Poster Competition."
Dehradun Toastmaster Club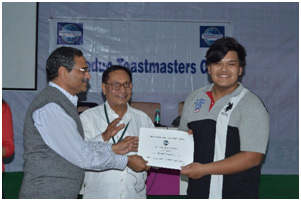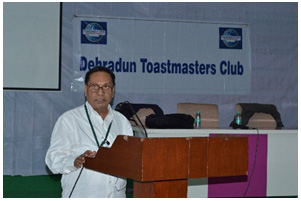 Dehradun Toastmasters Club held an interactive meeting with the students of Doon Business School. Where students participated in very enthusiastically. Many respected dignitaries from Dehradun Toastmasters Club as well as from DBS were present including Mr. Harry Sethi (President of the Dehradun Toastmasters Club) and others. Chairman, Director and Principal of DBS were also the part of this important session.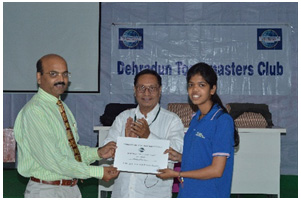 The main aim of the meeting was to eliminate the fear of public speaking among the students, and the purpose was seen to be perfectly served as many students came up and showed active participation in the Table Topic Speaking and were judged by the experts. This club was found so appealing and interesting by the students that 12 students volunteered to form aToastmasters Club in the College itself to carry the idea forward
Prom Nite
A major attraction of the evening was the romantic music tracks and games for couples. Few students had invited their dates from other colleges. After the games, the crowd went crazy dancing to the light romantic music.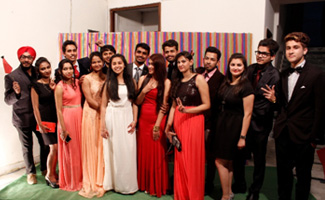 Finally the moment everyone had been waiting for came, the Prom King and Queen contest. The game needed the couples to keep their arm around each other and use only one hand each to play. The game started with a kiss on the forehead. The couples had to peel a banana and eat it, put toothpaste on the brush, light a candle using matchsticks and tie as many knots as many possible on a cloth. The couple who completed the task within the minimum time won.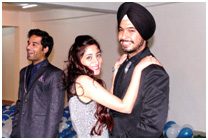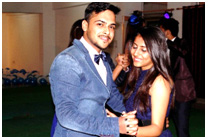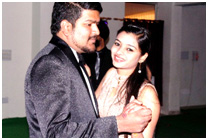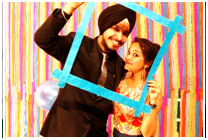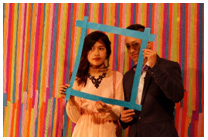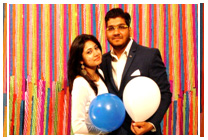 Sakshi Sharma of MAMCII and her partner Shammi Kapoor were crowned as Prom Queen and King. It was a memorable night which no one in DBS would ever forget.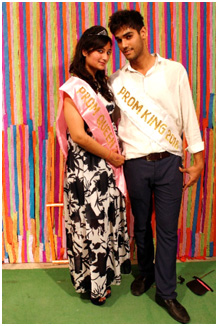 Team Building and Leadership Program
Management is doing things right and leadership is doing the right things but when these two factors are combined it is only then a student becomes successful. DBS students of PGDM have a golden opportunity to be in the chair as the listener of Ms. Surbhi Arora, Vice President AFII group for two day on team building and leadership development.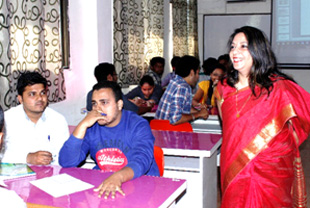 This ambitious program will take place for two days 8th and 9th April. The guest will be talking to the students about managing themselves and leading others. In this competitive world, leadership is that one trait which is admired by many and companies being one of them.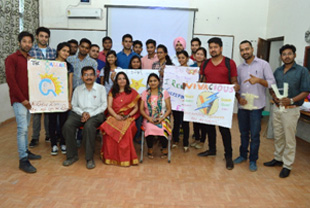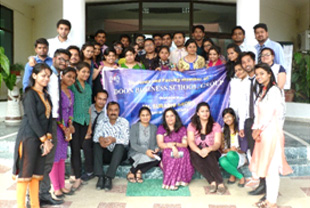 This meeting and interactive session will focus on individual leadership qualities and will teach students that leadership is about making others better as a result of your presence and making sure that your impact last in your absence.
Novel Release
On 15th of February, the novel 'never apart: to love and life' was released at Doon Business School, Selaqui. The author of the novel, Mr. Shibananda, is himself a student of MBA, at the institute itself. The novel was released by Chief Guest Dr. Anjum Aggarwal along with Mr. Mohit Aggarwal, Chairman of Doon Business School, Ms Jyoti Sabarwal, Stellar Publishing. At this proud moment of the institute, Dr. Anjum Aggarwal and the author of the novel, Shibananda and Mayuri shared their phenomenal love story with the audience. The writer shared with the one's present how good a support his wife was all through his struggle. Talking about the novel, the publisher, Jyoti Sabarwal said that the novel is about an intriguing love story that would keep all of us bound up in love, forever.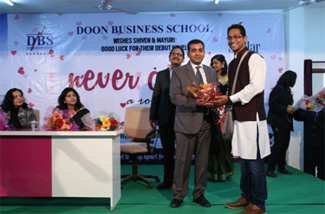 During the launch of the novel, Shibananda, motivated his fellow colleagues and the others present to not give up upon their dreams. He said, 'Life may take us upon different paths and we may have to face numerous challenges but one must never give up on love. Distance does not matter for those who are in love. And that true love never dies.' The novel is based upon the story of Sagar and Prakriti.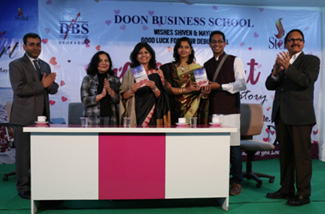 Also, when interacting with the students, Ms. Jyoti Sabarwal shared her experiences and encouraged them by guiding them on the right path. She told them that one must always follow their dreams and take themselves upon the path that their heart wants them too. She also told them that there is no shortcut for hard work.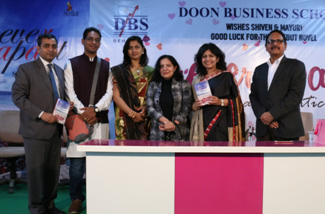 Guest Luecture by Mr. Subodh Saluja
Mr.Subodh Saluja has 12 years of work experience.
An MBA from IMT Ghaziabad.
He has worked with Infosys and TCS before joining Manpower Group.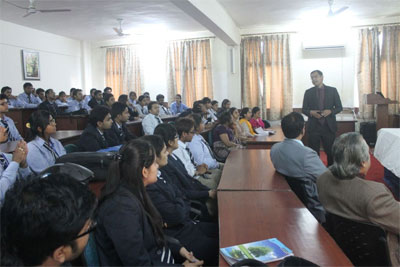 He leads various HR projects in areas of Talent Acquisition, Market intelligence, Training, Assessments. He also leads Innovation and Strategy in Manpower Group.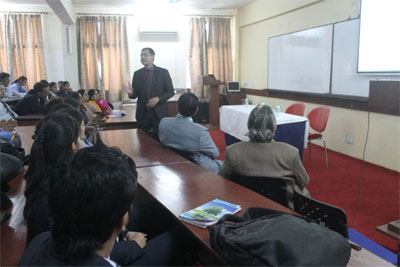 He is passionate to disseminate his knowledge to the young generation of India.
He believes that shaping the young leaders will create a better future for India.
Dumb Charades
19th September
On the 19th of September, an Intra Class Dumb Charades competition was organised . As they say ,"a picture speaks a thousand words". Our students conveyed their ideas without uttering a word. It was a fun event which was enjoyed by one all.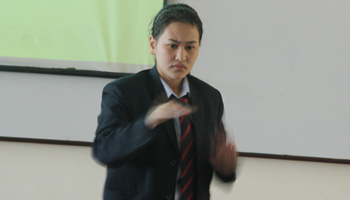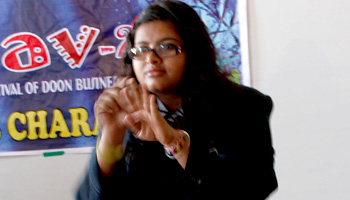 National Conference
National Conference on "Strategies for Competitive Advantages". A national conference on Strategies for Competitive Advantage was organised on 18th October.2013. It was the first initiative taken by Doon Business School and was appreciated by the stalwarts from the academics as well as the industry. It witnessed the participation of more than 50 delegates from across the country.


MBA Fresher Party
14th September
Last but not the least, the most awaited party for the MBA freshers was organised in the college premises on 14th September. It gave a good platform to the seniors to interact and be friend with the juniors. It was again a success! Shams was declared Mr Fresher and Richa Mathur became Miss Fresher who mesmerised the audience with her melodious songs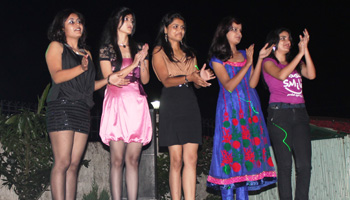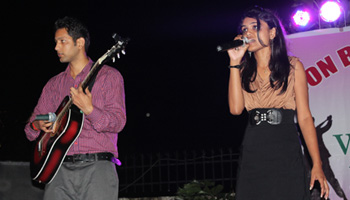 Inter Class Volley Ball Competition
12th September
Continuing with the Sporting Spirit, DBS organised Inter Class Volley Ball Competition. A total of 8 teams had participated. There were three rounds in each game. PGDM Seniors were the winner by defeating MBA Juniors.
12th September
Intra Class Debate Competition
Teachers' Day Celebration
Teachers' day was celebrated at DBS on the 5th of September 2016 with great enthusiasm. This day is also celebrated to honor Dr. SarvepalliRadhakrishnan, the great teacher, academic philosopher and India's Second President as he was born on the same day in 1888.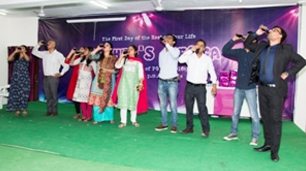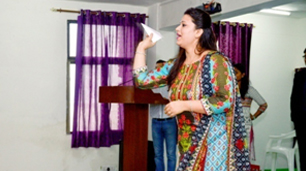 It came out as a pleasant surprise for the members of the faculty when the students organized various events for them as a token of affection, respect and gratitude. During the second half of the day, the Management organized a special get-together for the members of the faculty. All present there enjoyed the fun filled afternoon in a congenial environment and many faculty members won prizes also in fun games.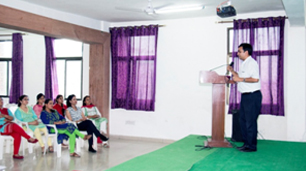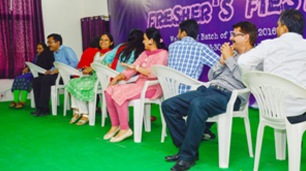 The program ended with a thoughtful speech from the Chairman Mr.Mohit Aggarwal, followed by refreshments.
Inter Class Football Matches
22nd August
The first cultural activity of the semester started with the student's showcasing their talent. It was a unique platform provided to the upcoming talent. Their were participants in all categories namely singing, dancing, mimicry, poetry etc. The winner was Priyanka Hathikakoti of MBA 1st Year who performed a regional dance of Assam. 2nd position was bagged by Kriti Anand of PGDM 1st Year who sang a melodious song and kept the audience enthralled.
29th August - Semi Final
The students participated with full zeal and rigour. Even the torrential rains could not dampen the sporting spirit of the students who despite heavy rains continued to play. The first Semi Final was played between BCom 1st and MBA 2nd and second semi final between BBA1 and BBA3rd.
The winners were BCom 1st and BBA 1st respectively Paying respect to all traditions, virtues and cultures, we organised an inter class Jhanki competition on Janamasthmi eve. There were 8 teams in all , out of which students of BCA 1 were the winners. The hostellers also organised a Matki Fodd activity on the same day which was enjoyed thoroughly by the hostellers.
26th September - Finale
The Football Match Finale took place between between BCom 1st vs BBA 1st and BCom came out as the undisputed winner.

Talent Hunt
The first cultural activity of the semester started with the student's showcasing their talent. It was a unique platform provided to the upcoming talent. Their were participants in all categories namely singing, dancing, mimicry, poetry etc. The winner was Priyanka Hathikakoti of MBA 1st Year who performed a regional dance of Assam. 2nd position was bagged by Kriti Anand of PGDM 1st Year who sang a melodious song and kept the audience enthralled.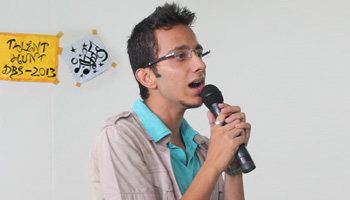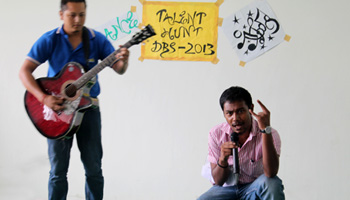 UG Freshers Party
DBS believes in the concept," Study hard but party harder". On 31st of august, freshers party for the UG's was organised by their seniors in the party hall of the campus. We got to witness spectacular performances by the freshers and seniors alike. It was an event enjoyed by one and all. Divya Nigam of BBA 1 was chosen as Miss Fresher who kept everyone spellbound with her Belle performance and Mr Fresher was Vishesh of BA Mass Comm 1st Year.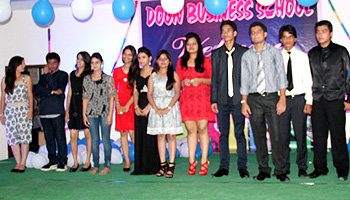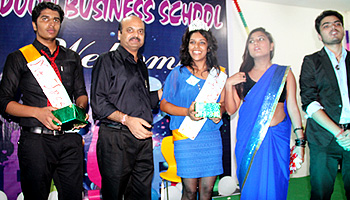 Lok Sabha Chunav
Please provide the text...
Navratri Festival
Navratri festival was celebrated with full vigour by the students. The hostellers even fasted and did pooja during these 7 days . Effigy Making and Inter Class Dandiya Dance Competition was organised for one and all. There was festivity all round. MBA 1 was the clearcut winner in the dance competition by showcasing the beautiful dandiya dance in traditional gujrati attires. In the effigy making competition the result was as under:
Ist Position - BBA Group for Kumbhkarna
IInd Position - BAMC Group for Meghnath
IIIrd Position - BCA Group for Ravan
Inter Class Singing Competition
An Inter Class Singing Competition was organised to find the "Sur Samrats" of the college. It was a melodious event that left the audience asking for more. In all there were 15 participants.The students sang classical, regional and bollywood numbers. The winner was Tanuj Keswani of BBA 1st Year who not only sang to perfection but also played an amazing guitar.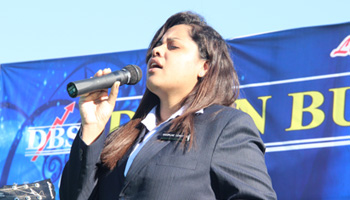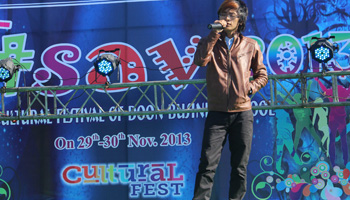 Guest Lecture by : Dr. Roshan Lal Raina (IIM – Lucknow)
Dr. Roshan Lal Raina is Professor in 'Communication Area' at the Indian Institute of Management, Lucknow (IIML), where he has contributed to institution building in areas like 'Corporate Communication & Media Relations', 'Student & Alumni Affairs, and Placements'.
Dr. Raina has vast experience of providing academic leadership and administering day-to-day activities of premier management educational institutes.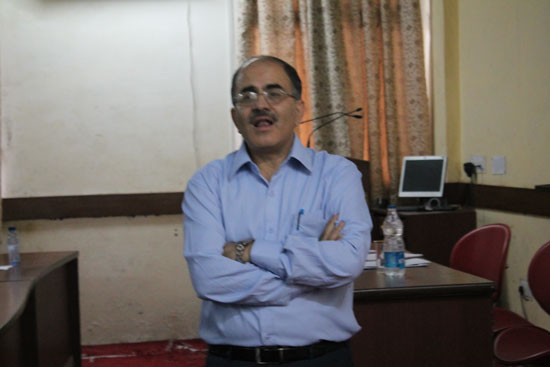 Dr Raina's contributions in core academic areas are many and varied. On the academic front, besides teaching a variety of innovative and need-based core and elective courses in the 'Communication Area', he has undertaken several prestigious assignments in educational institutes in US, UK, France, Germany, and Canada. Reputed organizations like the Fulbright Foundation (USA), the British Council (UK), the Max Mueller Bhawan (Germany), the ESCP-EAP (France), and the IDRC (Canada) sponsored these assignments. At home, too, he has worked for the Ministry of Agriculture, DSIR, and CSIR, all under GOI.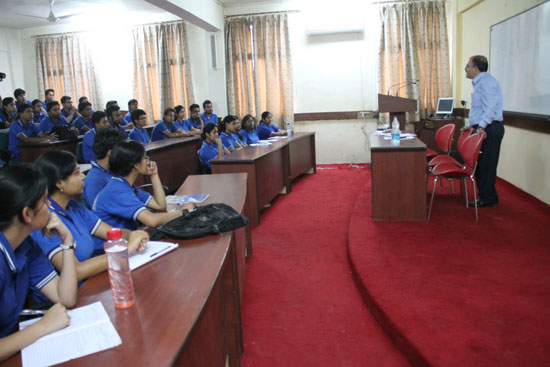 In terms of research, he has authored 6 and edited 11 bestselling books, journal volumes, and conference/seminar proceedings. Dr. Raina has published 70 research papers in national and international level peer-reviewed journals and has also presented (mostly on invitation) 118 papers in national and international conferences and seminars.
Dr. Raina took two day session at Doon Business School. First day He took "Faculty Development session" with all the faculties of Doon Business School. The second day he had a session with Dbs students. He took 4 hours lecture on "Effective Communication".
North India Young Entrepreneur Contest
Doon Business School has organised "North India Young Entrepreneur "competition. Doon Business School centre of Entrepreneurship brought the concept 'Next Big Idea 'competition which will provide a tremendous opportunity for entrepreneurial – minded students to come together under one roof for the purpose of fostering new business ideas.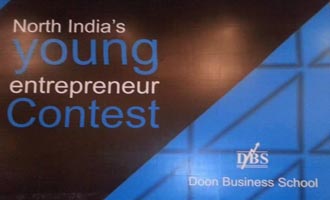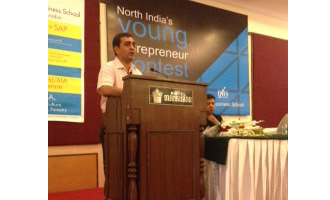 The event featured some prominent entrepreneurs, angel investors, venture capitalists. Mr. Gaurav kumar, one of the successful persons in the field of fashion and restaurant chain, Mr. Hemant kocher, owner of Madhuban Hotel, Mr. Sunil Chaudhary, owner of MCG group and Mr. Sumit Verma, an active member of appeal society were present there for providing their valuable guidance to the participants. Participants received mentorship and feedback by these established entrepreneurs. After the final round of the event ,the winners will not only win many prizes but also be facilitated with the seed capital to help them to launch their business venture.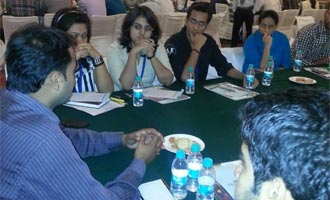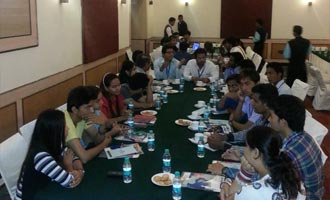 This event will help the students to get expertise in business plan and its execution. The event will not only make students aware of the business world but also make them to get familiar with feasibility of establishing new businesses.
"In accordance with the latest Govt. guideline the institute authorities at Doon Business School Group decided to call off the GDPI Scheduled at different locations till 30th May 2020. All Enrolled candidates will be interviewed via Skype/Zoom (Online mode)".