Novel Release
On 15th of February, 2016, the novel 'never apart: to love and life' was released at Doon Business School, Selaqui. The author of the novel, Mr. Shibananda, is himself a student of MBA, at the institute itself. The novel was released by Chief Guest Dr. Anjum Aggarwal along with Mr. Mohit Aggarwal, Chairman of Doon Business School, Ms Jyoti Sabarwal, Stellar Publishing. At this proud moment of the institute, Dr. Anjum Aggarwal and the author of the novel, Shibananda and Mayuri shared their phenomenal love story with the audience. The writer shared with the one's present how good a support his wife was all through his struggle. Talking about the novel, the publisher, Jyoti Sabarwal said that the novel is about an intriguing love story that would keep all of us bound up in love, forever.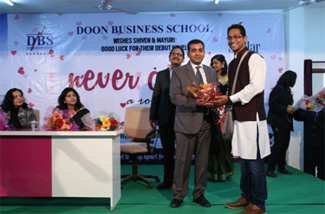 During the launch of the novel, Shibananda, motivated his fellow colleagues and the others present to not give up upon their dreams. He said, 'Life may take us upon different paths and we may have to face numerous challenges but one must never give up on love. Distance does not matter for those who are in love. And that true love never dies.' The novel is based upon the story of Sagar and Prakriti.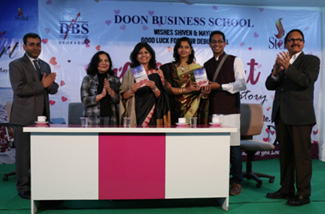 Also, when interacting with the students, Ms. Jyoti Sabarwal shared her experiences and encouraged them by guiding them on the right path. She told them that one must always follow their dreams and take themselves upon the path that their heart wants them too. She also told them that there is no shortcut for hard work.