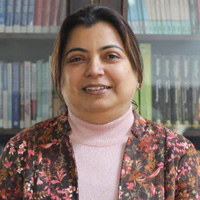 Associate Professor (Journalism & Mass Communication)
DOJ - 23th August 2019
---
Qualification
Ph.D in Journalism & Mass Communication
UGC- NET
MA (Broadcast Journalism)
MBA
Professional Experience
Worked with ZEE News(News desk,Delhi bureau & Worldview), Aaj Tak, AIR (Mehfil), Doordarshan (Evening Live show) in various productions. Also worked with Center for media studies and C-Voter as Researcher for exit and opinion poll in election analysis wing.
Teaching Experience
15 yrs of teaching experience in mass media (Advertising, Television Journalism, Development Communication and Media Management) at various colleges IMS Noida ,TIAS, JIMS, MBICEM and KRCHE. Have been awarded Ph.D degree from School of journalism and new media studies from IGNOU. Have written several research papers in Vidura and Cyber times on topics of development dilemma, media management and social networking sites and national development. Presented papers in National conference on women empowerment, gender sensitization and violence against women at VIPS, GGSIP university and AIMEC.
Awards & Recognition (if any):
Received Shri Bala Subramanayam memorial prize from Lady Irwin College
Research Paper Detail
Paper published in 4th All India International Media Conference, Udaipur in book released " Rise of Digital Human" on topic" Social Media and its Marketing Tools for deciding
Digital trends to satisfy potential customer" held on 27,28 and 29th Sep 2019
Paper published in proceedings of 3rd All India Media Educators conference 2018 of "The power of media and technology shaping the future" on topic" Role of Media/Technology in addressing violence against women" 6 to 8th July 2018 at Jaipur.
Paper published in conference proceedings of " Women Empowerment, Skill Enhancement and Media: Prospects and Challenges" on topic "Empowerment Issues of women in developing nations" (ISSN 2319-8702) 22nd-23rd April 2016 at Vivekananda Institute of Professional Studies
Paper publication entitled "Social Networking Sites and National Development" in Cyber Times International journal of technology and management (ISSN:2278-7518) in Volume 6 issue 2 September 2013.
Research paper published in National Journal Vidura issue (July-Sep2010) on topic "Media Management.
Research paper published in National Journal Vidura issue (Oct-Dec2010) on topic "Development Dilemma" in Cover Feature of the publication.