Prof. Lalit Kumar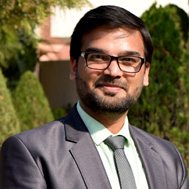 Assistant Professor
Mass Communication & Journalism
DOJ - 12th August 2010
---
Qualification
Pursuing PhD in Mass Communication
Masters in Mass Communication
MBA (Marketing)
BCA
Professional Experience
4 years
Teaching Experience
9 years
No. of Research Paper
Creating Values: A lena and green Story at Buddha College.
Rural Entrepreneurship: The answer for a self reliance rural india- A study of successful innovation indian rural entrepreneurs at KIET , Gaziabad.
Possesses enriched experience in the field of Mass Communication areas: Script Writing, Reporting and Media Management. He had been working as Asstt. Media Manager in Global Educational & Welfare Society, Regional head office for UP and Uttrakhand of Punjab Technical University, Contributed one research paper at International Conference, Attended specialized training programs, participated in a film festival & Mass Comm events. Worked for producing short movies & tabloid news paper.
Associated with Pinnacle of Truth (Bilingual Weekly) as a editorial member.
Corresponding (Punjab InfoLine) for Dehradun.
Exam setter for various Universities.