Dr. Jitendra Goswami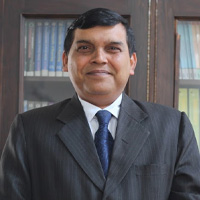 Assistant Professor
HRM & OB
DOJ - 29th June 2016
---
Qualification
Ph. D-T.M. Bhagalpur University, Bihar
PGDPM & IR-L.N. Mishra Institute of Economic Development & Social Change, Patna
LLB - BHU, Varanasi
BA - Allahabad University, Allahabad
Professional Experience
22.5 years
Teaching Experience
21 years
No. of Research Paper Detail
Gurukul System of Education in Ancient India and its Relevance, EMPI Research and Business Review, ISSN :0974-6388, Vol:II, Issue 3, July –Dec. 2011
Understanding Unorganised Sector in India, EMPI Research and Business Review, ISSN :0974-6388, Vol:II, Issue 4, Jan– July. 2012
Professional Background
Education Management Professional with extensive hands on experience in every facets of higher education. A versatile teacher having experience of teaching the abstract topics like Science of Creative Intelligence to Modern Management papers like HR Specialization and Business Laws, Business Ethics, and fundamental entrepreneurship. Also a teacher of Transcendental Meditation  taught and propagated by Late Maharishi Mahesh Yogi.
Remarks
Satisfied parents and students
Better and improved behavior of students
Good feedback from students
Designed, developed and started the two-year full time Post Graduate Programme in Entrepreneurial Business Management (EBA)
Guided more than 200 students in their summer projects and Dissertations.