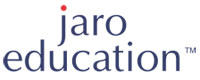 Jaro Education selects 10
Jaro Education is one of the leading education service provider, catering to the needs of working professionals by offering them varied choices in management and technology programs from reputed institutes/universities/colleges for pursuing the course online.
Earlier this week Jaro Education conducted its placement drive for DBS students. The profiles on offer were that of Career Development Executive (with a remuneration of Rs.7.5 lacs per annum) and Management Intern (remuneration offered Rs.5.64 lacs per annum).
After several rounds comprising of group discussion and personal interview a total of 10 students made it to the final list of selections; this included 8 students from the post graduate program and 2 students from under graduate program.