Dubai Tour
Doon Business School sends their students of PGDM to various parts of India and abroad for practical exposurecombined with an outing. This year 38 students from PGDM were chosen to visit Dubai, escorted by our faculty Prof. Lalit Choudhary. It was an eight days educational trip mixed with someexhilarating moments and memorable experiences.
Dubai situated in the United Arab Emirates is known for its high tech architecture, luxury shopping and nightlife attracts lakh of tourist every year and thus becoming a major business hub. The students of DBS did a survey on customers of renowned labels in the mall by asking them invigorating questions and why they preferred these brands over the others; a very general specimen of luxury brand management marketing.
The student also visited the Jewel Market which is also known as the Gold souk of Dubai. The souk is located in the heart of Dubai's commercial business district in Deira, by some estimates, approximately 10 tons of gold is present at any given time in the souk.
One of the best thing about Dubai – "The Desert Safari"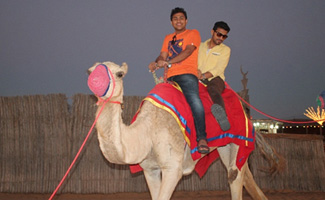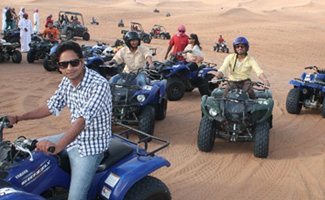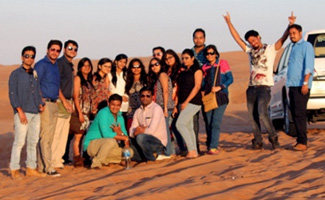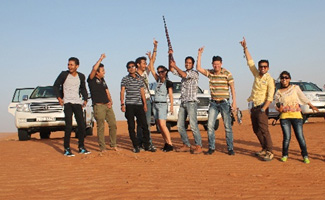 Students outside the Dubai Museum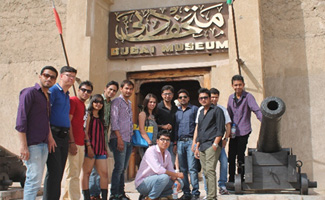 The purpose of such foreign tours is to provide the students with a Global Experiencewhich meansthat they could get a general overviewof its economy and the work culture prevalent there.
The city of Dubai has a lot to offer which includes business, knowledge and loads of entertainment. We at DBS wanted our students to benefit from it the most.
Amongst the other popular destinations visited by the students were:
The Jumeirah Beach - a pristine white sand beach amidst a modern surrounding.
Dubai Museam - It is the oldest building in Dubaiwhich has preserverd local antiquities as well as artifacts from countries that traded with Dubai.
Burj Khalifa - The tallest artificial structure or sky scrapper in the world, standing at 828 m and more than 160 stories.
Students at Dubai Creek Harbour & Burj Khalifa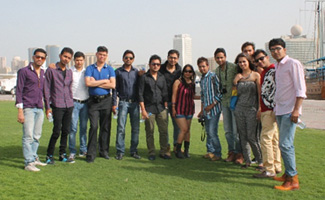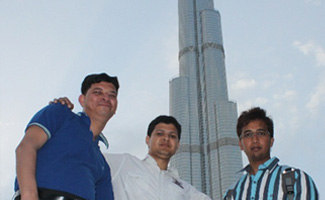 Students visiting Aquarium in The Dubai Mall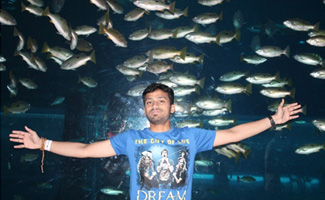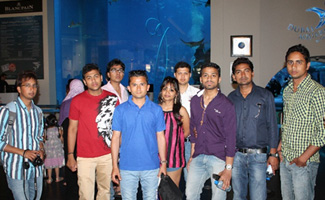 For the students of the PGDM it was an unforgettable trip which included fun mixed with education. We at DBS would like to organize more of such trips for our students every year, to push aside the borders of isolation and go global making each excursion a memorable one.
Students enjoying the Dubai Beaches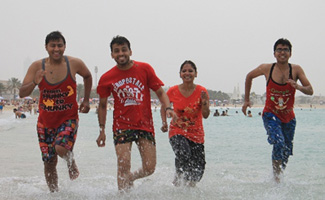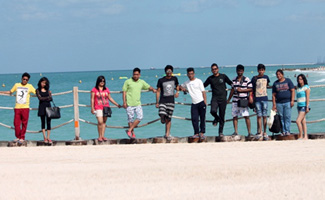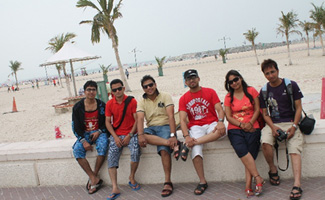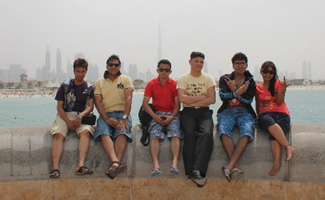 Students enjoying BBQ Dinner with Belly Dance