Auditorium, Conference Room & Activity Hall
Known as a Business School famous for its various academic and cultural activities, DBS houses a state-of-art Auditorium, Conference room& Activity Hall which provides a conducive environment for conducting events like conferences, seminars, workshops, debates, quizzes, meetings, etc.
FDP & Presentation at Auditorium & Activity Hall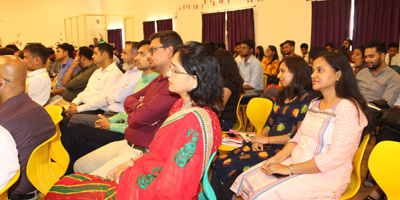 It has a seating capacity of 400 people. This auditorium will mainly be used for organizing different national seminars, lectures, workshops, symposiums and small scale dance, drama, theatre and other cultural events. The auditoriums is designed and constructed using the modern age HVAC (Heating, Ventilating and Air-conditioning), Electrical and Emergency Services.
Discussions & Board Meeting at Conference Room
The air conditioned Auditorium is equipped with latest technology for all types of audio-visual presentations. The oval-shaped seating arrangement in the Conference room, equipped with individual microphones, is an ideal setup for student committee meetings and conferences.