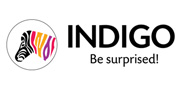 Indigo Paints
10 February, 2021
India's 5th largest decorative paint company Indigo Paints out with the manufacture of lower-end Cement paints, and gradually expanded its range to cover most segments of water-based paints like Exterior Emulsions, Interior Emulsions, Distempers, Primers, etc. Today the Company stands out as one of the strongest contenders in the Indian paint industry, being rated as an innovative paint manufacturer, which keeps coming out with unique products never before offered in the country.
Indigo Paints did an online recruitment for Doon Business School and after doing various processes, selected one candidate Sangram Singh for the profile of Senior Sales Officer.
Goodluck to Sangram for his bright future in Indigo Paints!