Medical Tieups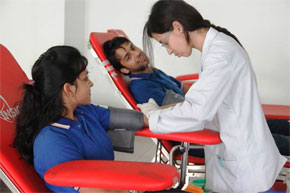 Each student at the time of admission is given a CashLess Mediclaim Card (on payment basis), which has a tie-up with Dehradun's three leading hospitals namely, Max Super Speciality hospital, Shri Guru Ram Rai Hospital and Synergy Hospital. A Student can walk-in cashless into any of these hospitals when in medical emergency.
However, for small emergencies and first-aid, SHC of Selaqui is just about 500 m from the institute campus. Moreover, primary first-aid facility is available in the campus and as well as in the hostel.
The institute shall not be in a position to take any medical responsibility of its students. It remains the prime responsibility of parents/students themselves. It is advised that students from outstation should have some local guardian available for their parenting/personal care required in case of any medical emergency.
Uttarakhand has as very efficient ambulance service 108, available free of cost.