Prof. Sachin Kumar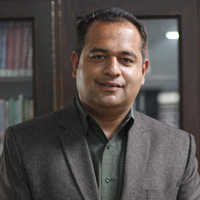 Assistant Professor (NSE & IRDA Module Trainer)
DBS - Since 2013
---
Qualification
MBA-IMS Dehradun
Pursuing CFP conducted by FPSB
M.Com-HNBGU
B.Com-HNBGU
C-DAC-Bytes Infosys Ltd. New Delhi
Certificate course in AMFI Mutual Fund (Advisor) module-NCFM, New Delhi
Professional Experience
Teaching - 1.8 (year)
Industry - 1.8 (year)
Total - 9.6 (year)
Experienced professional, top in Uttaranchal by giving highest ever brokerage on a single day i.e. 1,45000 brokerage
Stood 1st all over India in India Bulls Co. in selling the Reliance Equity Advantage Fund in July 2007
Stood 1st in North Region by giving maximum business to Bajaj Capital Ltd. The last quarter of the month Dec 2007, as well as in first Quarter March 2008.
Stood 1st in entire UP & Uttaranchal at Aegon Religare Life Insurance Co. Ltd. In the first Quarter in the issuance as well as in Login.