Prof. Pushpa Kataria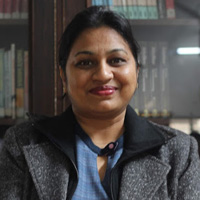 Associate Professor, Management (HR & OB)
Area Chair- HR & General Management
DBS - Since August 2012
---
Dr. Pushpa Kataria, an experienced trainer, career spanning more than 18 years in the field of Management and Strategy. Besides a management educationist, she is a social activist. She has initiated , designed and conducted numerous Management Development Programs & In-Company training programs at cross functional managerial levels in private and public sector organizations. She has presented and published research papers & book chapters in International and National Journals of repute. She is also a National Scholarship Holder from Govt. of Andhra Pradesh at school level. She holds an enriched academic career.
Qualification
PhD in Management - Uttarakhand Technical University, Uttarakhand
Qualified National Eligibility Test ( NET) 2012
M.Phil in Management & MBA (HR) – Osmania University, Hyderabad, Telangana.
B.Com. (Professional) – St. Francis College for Women, Hyderabad, Telangana.
Certification in ' Emotional Intelligence' from FEIL
Certification with Distinction in 'HR Analytics and Metrics for Professionals' from Middle Earth HR
Professional Experience
Teaching - 13 (year)
Industry - 5 (year)
Total - 18 (year)
Some Achievements
MDPs / In-Company Training Programs were designed, coordinated and trained executives of various organizations like Power Transmission Corporation of Uttarakhand Limited (PTCUL) Uttarakhand Power Corporation Limited (UPCL), Kalindi Pharmaceuticals Private Limited, Selaqui. Dehradun, Coral Laboratories Pvt. Ltd., Dehradun Garhwal Mandal Vikas Nigam Ltd., Dehradun, ABC Bearings Pvt. Ltd., Oil and Natural Gas Corporation Limited (ONGC), Uttarakhand Jal Vidyut Nigam Ltd. Dehradun, BRIDCUL and Tupperware Pvt. Ltd., Selaqui, Dehradun.
Holds position of Faculty Coordinator - DBS-Group
Resource Person to the participants of the 'First Uttarakhand Seminar for D. Pharm. Students' on 19/11/2019 at the Sunrise Academy Management Society, Dehradun.
Successfully completed a three day Faculty Development Program sponsored by AICTE on 'Universal Human Values for Student Induction', conducted from 21-23 October 2019
Completed online certification on Health Research Fundamentals from NPTEL.
Best Faculty Award – Management Review- 2012, Best Faculty Award – Peer Review- 2013 and 2014, 2015 and 2016.
Served as a member of Course Preparation Team, for Distance Educational Programs of the ICFAI University: Dehradun, Course: "Introduction to Management"
Outstanding Performer at Faculty Training Program, 2007-08, ICFAI Staff College, Hyderabad.
Awarded "Certificate of Excellency, 1993.