Prof. Naveen Bhardwaj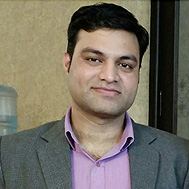 Assistant Professor
DBS - Since 2013
---
Qualification
Pursuing Ph.D, UTU, Dehradun
M. Phil (Mass Communication) BBAU Central University, Lucknow
MA (Mass Communication) from HNB Garhwal University
B.A (English, Economics & History) from HNB Garhwal University
Professional Experience
Teaching - 6 (year)
Industry - 6 (year)
Total - 12 (year)
Specialization
Investigative Journalism
Field Reporting
Camera Handling (Video & Still)
Audio-Visual Production
Possess enriched experience in the field of Journalism & academics.
Worked as a reporter with "Khabrein Abhitak", Hindi News Channel.
Worked with "Sadhna News", "Jansandesh", "Cobrapost".
Worked in celebrity talk show named "The Tony B Show" for channel V.
Presented & Published Research Papers.
Media and Public Journalism: A Study of Social Media as Tool for Promoting 'Public Journalism' Among Students of Higher Education In Dehradun, September 2016.
Perception and Impact on College Students towards Representation of females in Media, February 2017.
Media Trials and Social Justice: An Investigation of Mainstream news media in the past decade, April 2017.