Prof. Jai Veer Tyagi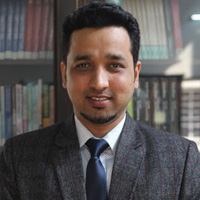 Assistant Professor
DBS - Since August 2016
---
Qualification
B.A. (Hons.) Mass Communication
M.A. Mass Communication
Professional Experience
Teaching - 2
Industry - 6
Total - 8 (year)
Professional Background
Worked with VOICE OF NATION, Satellite Nation News Channel as a News anchor andprogram producer of a phone-in live Program named as 'Sports King'(gained popularity in world cup 2011 season).
Worked as intern on Sub Editor Desk at 'The Pioneer' National news paperDehradun (UTTRAKHAND DESK).
Worked as Program Producer, Anchor & Voice-Over Artist for the Sponsored Episodes on Dordarshan Uttarakhand named as 'Satyamitra Devbhumi'.
Two years acting experience under Sai Kala Manch Dramatic Club.
Working experience with DIGI SS Cable News Channel, Moradabad as news anchor and voice over artist.
Worked as a contract talker with All India Radio,under 'Yuv Vani' and'BALMandal'Section from five years.
Worked as Assistant Director in an international documentary on Uttarakhand Rural Development 'A Quest For Sustainable Development', under Imagine Productions Dehradun.
Working experience of three years as a Non-Linear Video Editor & Assist. Director in one of the renowned Production House of Dehradun, Uttarakhand named as DAKSH CREATIONS.
Worked as Faculty of Mass Communication Department at Minerva Institute of Management & Technology, Dehradun, Uttarakhand.
Worked as lecturer of Mass Communication at Doon Group of Colleges, Dehradun.