Dr. Jitendra Bhatt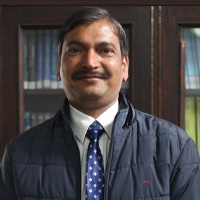 Senior Assistant Professor (Agriculture and Allied)
DOJ - 8th July 2017
---
Qualification
Professional Experience
Teaching - 9 (year)
Total - 18 (year)
Published papers
Poonam Prasad, Jeet Ram and Jitendra Bhatt. 2018. A Comparison of canopy cover measured through transect and Densiometer in oak forest of central Himalaya , India. ENVIS Bulletin Himalayan Ecology, Vol 26:29-32.
S.KTannan, and Jitendra Bhatt. 2018. Role of intellectual property rights in taking off the indian economy to the developed country. International journal of e-government & e-business research Vol 2 ( 2017): 34-40
Sundar Pal and Jitendra Bhatt. 2018. Feeding Efficiency of Six Beetle Species against Mustard Aphid, Lipaphiserysimi(Kalt.) in Uttarakhand, India. International Journal of Current Microbiology and Applied Sciences. 7(4): 1970-1976
AshishTewari, Jitendra Bhatt,Amit Mittal, Nandan Singh and Krishna Kumar Tamta (2016) Regeneration issues and indicators of seed maturity in MallotusphilippensisMuel. Arg. In the tropical forests of Uttarakhand. Ecology, Environment and Conservation 22 (2): 767-77.)
AshishTewari, Jitendra Bhatt,Amit Mittal 2016. Influence of tree water potential in inducing flowering in Rhododendron arboreumin the central Himalayan region. iForest 9: 842-846. doi: 10.3832/ifor1525-008 (online 2016-05-06).
Jitendra Bhatt2015. Community Managed Forests a potential sources of carbon sink: A case study from Kumaun central Himalaya. Paripex - Indian Journal of Research 4(10): 167-171.
JitendraBhatt, and Ram J. 2015. Seed maturity indices in Carpinusviminea (Himalayan Hornbeam) along altitudinal gradients in relation to climate change. International Journal of Recent Scientific Research Vol. 6 (7): 5237-5242.
Jitendra Bhatt 2015. Germination and Adaptation of PhyllostachysPubescens (Moso Bamboo) in Uttarakhand. Paripex - Indian Journal of Research 4(3): 42-44.
Jitendra Bhatt, AshishTewari and Amit Mittal 2015. Regeneration Problem in QuercusleucotrichophoraA. Camus in Nainital Forest Division of Kumaun Himalaya. International Journal of Pure & Applied Bioscience 3: 284-290.
Neeraj Sharma,ManojChandran  and Jitendra Bhatt 2009. Growth performance of three exotic pine species in relation to indigenous species in Uttarakhand Himalaya, India. The Indian Forester 135: 1556-1564.
Jitendra Bhatt and Jeet Ram. 2009. Ecology and regeneration of CarpinusvimineaWall: A lesser known tree species of the Himalaya. The Indian Forester 135: 559-570. 
Jitendra Bhatt and Jeet Ram. 2007. Seed and seedling characteristics of the Himalayan Hornbeam (Carpinusviminea Wall.), India. Ecological Research 22: 156-159.
Jitendra Bhatt,Neeraj Sharma and C.S. Tewari. 2007.Propagation of Tejpat (CinnamomumtamalaNees and Eberm.)through seeds: A new Approach. The Indian Forester 133:1572-1574.
Jitendra Bhatt and Jeet Ram 2006. Tree characteristics and Phenology of BetulaalnoidesBuch.-Ham. Ex D. Don. In Uttaranchal Himalaya. In the Proceedings of the XII  Silviculture Conference 198-206.
Jeet Ram, J. Bhatt and P. Kumar 2005. Tree and Shrub diversity of mid elevation forests of Uttaranchal Himalaya. Bulletin of the National Institute of Ecology 16: 95-104.
Pankaj Kumar, Jitendra Bhatt and Jeet Ram. 2005. Diversity of herbaceous plants in mid elevational forests of Uttaranchal, Central Himalaya. Van Vigyan 39 No. 1-4 (2001):82-90.
Jitendra Bhatt and Jeet Ram. 2005. Seed characteristics and germination in QuercusleucotrichophoraA. Camus along the elevational gradient. Bulletin of National Institute of ecology 15: 207-213.
Jeet Ram, Arvind Kumar and Jitendra Bhatt. 2004. Plant diversity in six forest types of Uttaranchal, Central Himalaya. Current Science 86 (7): 975-978.
Project Reprots
Manoj Chandra and Jitendra Bhattet. al. 2012. Project Report of "Study on the Impact of ban on green felling of Chir Pine (Pinus roxburghii Sarg.)". Research gate : https://www.researchgate.net/publication/329970050
Submitted
Jitendra Bhatt. Economic valuation of pure agriculture and integrated farming systems in rainfed conditions of the Uttarakhand.

Field of specialisations: Seed Technology,Silviculture,Forest Ecology, Plant Biodiversity and Eco-physiology, Eco-restoration.

Academic and Professional - Have more than 9 years teaching to UG and PG students of Forestry and more than 12 years Research experiencein Forestry and Climate Change as R. A., S. R. F. and J. R. F. Research experience consists in the areas of eco-physiology; climate change and plant adaptation; plant phenology; seed maturation and germination; ecology including the regeneration, plant biodiversity assessment, habitat improvement (eco-restoration and eradication of invasive alien species); Silviculture includes clonal propagation and development of clones, nursery technology etc. Experience also consists of technical report writing on various topics, evaluation of working plans and preparation of various projects for Uttarakhand forest department. Dr. Bhatt published more than 20 research papers in the international and national journals of repute, seminars/conferences. Attended and presented papers in 8 seminars/workshops/conferences.