Dr. Bhavna Thakur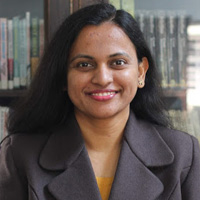 Assistant Professor (Agriculture)
DOJ - 6th July 2017
---
Qualification
Ph.D in Plant Physiology from G.B.P.U.A & T, Pantnagar
Ph.D, Qualifiied NET, SET
Professional Experience
Teaching - 8
Total - 6 (years)
Professional Background
Published research papers in various journals of international repute.
Possess hands on experience on Plant tissue culture, Molecular biology techniques, Bioanalytical assays, Bioinformatics, Formulation of biocontrol agents and Field trials.
Life member of Society of Plant Biochemistry and Biotechnology, National Research Centre on Plant Biotechnology, Pusa, New Delhi.
No. of Research Paper Detail
Published 04 Research paper
03 Book Chapters
01 Lab Manual
02 Popular Articles in publications of National and International repute.