Prof. Neha Choksi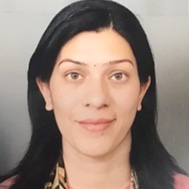 Assistant Professor
Marketing, Human Resource Management
---
Qualification
PhD in Management (Pursuing) – Uttarakhand Technical University, Dehradun
MBA (Marketing) - IMS Dehradun
BBA(General) – IMS Dehradun
Online certifications in Soft Skills, Peoples Management, Emotional Intelligence, Inclusive Leadership.
Professional Experience
Teaching – 16.3 years
Research – 8 years (Including Teaching)
Total - 16.3 years
Professional Background
With a journey of more than one and a half decades Ms. Neha Choksi has a diversified experience of teaching, research, administration, training and Placements and her core functional area is Marketing and has a deep interest in Human Resource Management as well. She has a passion of doing something new and innovative in the field of management education each passing day. She has 6 research papers both UGC and Scopus listed, nearly twenty plus paper presentations and participation in national and international conferences, workshops and seminars to her credit. She is also an active blogger and published blogs on digital marketing, talent acquisition and woman empowerment.