Dr. Satish Chandra Pant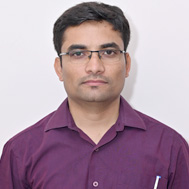 Assistant Professor
---
Qualification
PhD (Major: Management, Minor: Agribusiness Management), G.B.Pant University of Agriculture & Technology, Pantnagar, Uttarakhand
MBA (Marketing) Greater Noida Institute of Technology MBA Institute
BSc (Biotechnology), Bareilly College, M J P Rohilkhand University, Bareilly
Faculty Development Programme-IIM Ahmedabad
UGC-NET Qualified
Teaching Experience
Teaching - 6 Years & 8 Months (years)
Industry - 1 (years)
Total - 7 years & 8 Months
Professional Background
Dr Pant is a distinguished Agribusiness professional who have contributed number of Government funded research, training and consultancy projects across the country (INDIA) in the domain of Agricultural Marketing and Agribusiness.He has been Invited as a Visiting faculty/ Guest faculty/resource person to deliver various modules on Agricultural Marketing and Agribusiness to the Agricultural Officers, Extension officers, Farmers and PG& UG Students in several reputed institutions including Indira Gandhi Krishi Vishwavidhyalaya, Raipur, University of Agricultural Sciences, Dharwad under ICAR-NAHEP-IDP-UASD programme, National Institute of Food Technology Entrepreneurship & Management (NIFTEM) Sonipat, Vasantrao Naik State Agriculture Extension Management Training Institute (VANAMATI) Maharashtra, ICAR-CAZRI Jodhpur, Extension Education Institute, Hyderabad (EEI Hyderabad), EEI Neilokhadi, Vaikunth Mehta National Institute of Cooperative Management(VAMNICOM) Pune and Assam Agriculture Marketing Board, Guwahati. He has also trained various international trainees of Africa and Asia during USAID funded training programmes at NIAM, Jaipur in the domain of Value addition in Agriculture. He has Published more than 15 research reports, papers and articles. He has acted as a committee member in framing Rules for Farmers' Produce Trade and Commerce (Promotion and Facilitation) Ordinance 2020 for Ministry of Agriculture and Farmers' Welfare, GoI.
Experience
August 2017 -August 2021- Workedwith CCS National Institute of Agricultural Marketing(An Organization of Ministry of Agriculture and Farmers' Welfare, Government of India) as an Assistant Professor in the domain of Education, Research, Consultancy and Training in Agricultural Marketing and Agribusiness. Workedin three centres as a member and engaged in various Research activities, policy related works and consultancy programmes along with teaching assignments in PG Programme.
July 2015 to August 2017- Worked as Assistant Professor in the Faculty of Management Science, SRMS-CET Bareilly, (Dr. Abdul Kalam Technical University, Uttar Pradesh, India). The core assignment was teaching Marketing Related subjects to MBA students.
January 2015 to May 2015- Worked as Teaching Personnel in College of Agri-business Management, G.B. Pant University of Agriculture & Technology, Pantnagar, Uttarakhand, India in the domain of education (MBA Teaching).
Approx. 1 year of Industry experience in the domain of Marketing and Sales.
Remarks
Member of American Economic Association
Lifetime member of Indian Society of Agricultural Marketing, India
Lifetime member of the Journal of Research ANGRAU, India
Lifetime member of International Society of Extension Education, Nagpur, India