Dr. Ranjana Sharma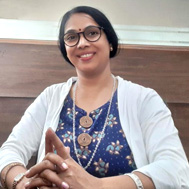 Associate Professor
(Finance & Accounts)
---
Dr. Ranjana Sharma is having 24 years of academic experience in the area of finance and Accounts. She has published many research papers in national & international journals also presented many papers in national & international seminars & conferences.
She is a sole author of book named Financial Accounting published by Galgotia Publishing house. Dr. Ranjana teaches Financial Management, Financial Accounting, Management Accounting, Business Finance and Cost Accounting, to the students.
Apart from academics she also played a very important role in discipline and grievance committee as a member of it.